Description
The certification program is divided into a three day session followed by a two day session two months later.
Purpose: to help you shape a high performance organization by:         
Deepening Your Skills
Transforming Your Organization
Improving Your Results
Key Takeaways           

Once you are certified in using The Organizational Systems Model, you will be better able to:
Explain the root causes of your organization's performance 5
Identify priorities for transforming the organizational capabilities that lead to better business results
Organize resources to sustain great business results
Lead others successfully to implement the Organizational Systems Model
Create an organizational action plan to handle future challenges
Central Framework
The Organizational Systems Model is a well-proven whole-systems tool to help you accurately diagnose the current organizational dynamics and provide profound insights on what elements to redesign for better results.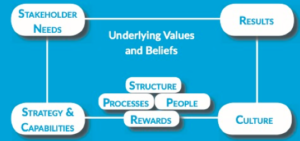 For Diagnosis: start with Stakeholder Needs and move clockwise to trace the cause-and-effect linkages that deliver today's results
For Design: start with Stakeholder Needs and move counterclockwise to shape new strategy and organizational capabilities, organizational processes, structures, rewards, and people development systems and predict their impact on culture and results.
For Implementation: plan how to implement your design changes to ensure the needed culture and results emerge that will meet key stakeholder needs.
How It's Organized
A three-phase process of "learning by doing" so that skills are deepened and results are improved.
Phase I: a three-day workshop devoted to equipping you to use the model for diagnosis and design
Phase II: Approximately 6-8 weeks between sessions to use the model in your work with an actual client group
Phase III: A two-day workshop focusing on questions and issues from Phase II and best practices from many industries and cultures.